At the last minute decided to check out the new Tecumseh Trails park out in Shawnee, OH (near the Perry State ATV area and Wayne National Forest). This is a private 1,000 acre park and it's opening weekend.
http://www.tecumsehtrailsoffroad.com/
Not much at taking pictures but on our first loop around the perimeter trails came across a broken down Artic Cat. It was really greasy and they were hot-rodding around the trails and tagged a tree. This resulted in mass carnage of the right front suspension.....snapped lower control arm bolt, separated ball joints, broke axle shaft, snapped top eyelet off shock. These guys were riding by themselves with no tools, and it was the guy's buddy who was driving at the time! After taking him back to his truck to get some tools to remove the tire and strap the remaining suspension up I dragged him back to camp. With basically no steering and the slick trails and hills there was no way he could have driven out.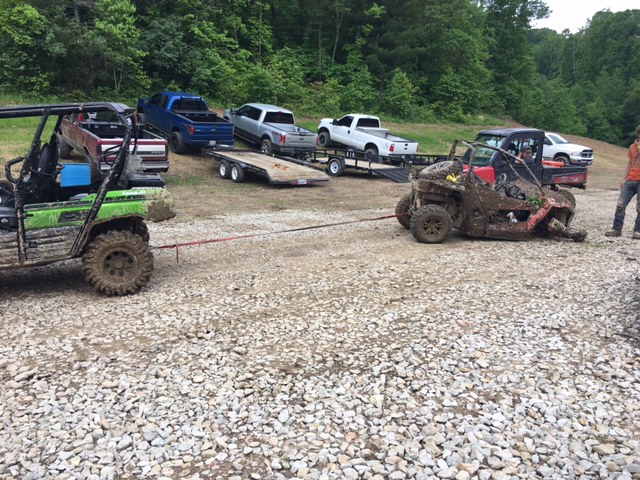 Back to the this new park, it's not a bad place to go. With the trails being fairly fresh, meaning still top soil on them, and the wet conditions it did make it somewhat interesting but could go everywhere on the first try. They are still making trails and after some of the hills get more rutted up it should be more challenging, but if it was dry you would be 2wd most of the time.
The owners/staff seemed friendly and were riding around the trails keeping an eye on things.